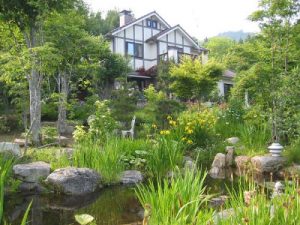 Hand-built countryside which is not on a map and where comforting people's soul/heart and growing people's beautiful mind.
We started Bell Gardia Kujira-yama with our thought that we would build authentic countryside for our /your grandchildren, who are not born yet but will be born in the future, and would like them to experience a lot of things through Bell Gardia Kujira-yama.
Bell Gardia Kujira-yama is an open garden and has been familiar with people with deep grief as a place of comforting them for 10 years since its foundation.
Namiita coast was one of damaged areas hit by tsunami caused by Great East Japan Earthquake in 2011. A lot of people died as a result of this disastrous tsunami but some survived. We think that nature let us live and this thought brought us to think we are living to support someone ells. We would like Bell Gardia Kujira-yama to be a place where supporting people who need it.
We have provided places for supporting those who have deep grief such as "The Phone of the Wind" for mental care of them, "The library of the woods" for growing children's sensibility, and also we are supporting people with disable to be independence.
While we are expanding our activities for widely supporting people, we are improving and maintaining Kujira-yama's environment as a garden designer.
Garden with wide variety of flowers and plants, the library of woods, the masonry stage, the forest of Kikki and tree house, all of them are our hand-built works. The garden is run and maintained by Mr. and Mrs. Sasaki just two of us.
We would like "Bell Gardia Kujira-yama, the countryside which is not on a map" to keep being the place where comforting people with deep grief, providing those people a trigger to go back to normal life normal every day, and where people get together and communicate each other, growing sensibility and beautiful mind of the children who will built our future.
---
Book: The Phone of the Wind: 6 years after the Great East Japan Earthquake. What we can see through The Phone of the Wind"
Writer: Itaru Sasaki
Publisher: Kazama Shobo (published on 24 August, 2017)
Price: 1,944 JPY →available on Amazon
The history of "The Phone of the Wind" which conveys bereaved people's thought to their loved ones who died in the Great East Japan Earthquake and our activities to the present are introduced in this book. The writer is the one who has made "The Phone of the Wind".
Also this book is available at book stores in Japan and Bell Gardia Kujira-yama. We would be very happy if you have a chance to read it.
---
Bell Gardia Kujira-yama is a private property and run by private operation.
We would really appreciate a kind support and donation from those who willing to support our continuous and log-term operation and activities.
The bank account
Iwate bank, Ohtsuchi blanch
Blanch number: 039
Account number: 2050680
The type of account: ordinary saving account
Account holder: Bell Gardia Kujira-yama, Itaru Sasaki
Japan Post Bank
Blanch number: 838
Account number: 1938776
The type of account: ordinary saving account
Account holder: Bell Gardia Kujira-yama, Itaru Sasaki
---
Outline of our facility
Name
Bell Gardia Kujira-yama
Foundation
September, 2000
Representative
Itaru Sasaki
(Garden Designer, Gardener, Tree Doctor)
Address
9-36-9 Namiita, Ohtsuchi-cho, Kamihei-gun, Iwate 028-1101 Japan
Tel/Fax
0193-44-2544
Opening hour
10:00 to 16:00(Closed on Mondays)
Outline of our activities
1. Improving and maintaining Kujira-yama's environment
2. Operation and maintenance for following facilities
・Library of the woods
・The Phone of the Wind
・The garden fronting onto the sea
・Garden Café "Ever Green"
・Jomon Stage
・The forest of Kikki and tree house
・Metal Workshop
3. Planning and organizing events held in Bell Gardia Kujira-yama