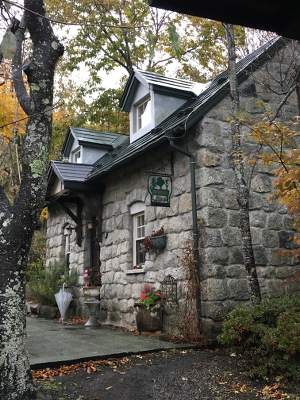 "Library of the Woods" opened in April 2012. Originally, in order to create a gallery, stones were piled up one by one in a corner of the garden.。
Approximately 4,000 books gathered from all over the country. Photo books and art books are lined up on the first floor, which doubles as a discourse room, picture books and children's books are lined up on the second floor of the attic space, where a sofa is placed on the carpet so that children can read freely in their favorite posture.
Due to the Great East Japan Earthquake, schools, libraries, and bookstores were washed away in Otsuchi, and there was no place to read books. And the sight I saw from school was a mountain of rubble. The environment in which children grow up from an early age is very important, and I wondered if this would leave a stigma in the future.
I also think it was an opportunity for children to think about what is important and what is important to have their schools and homes washed away, which should be the safest and most enjoyable. In order to know the essence of things, we must develop our sensibility and think about things from various angles.
If you have a building and books, you can call it a library. But the question is, "what do you do there?"
At Library of the Woods, you can take your book out and lie down on the lawn to read it on a forest bench, or take it to a tree house to read. Creating an environment where "when you step outside, the world in the book is there". By doing so, the children can have an attitude of learning by themselves. You can improve your sensibility by touching the real thing, such as growing flowers, keeping small animals, listening to music at a forest concert, and watching pictures.