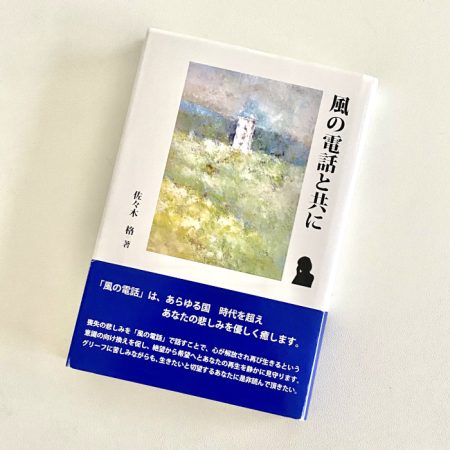 On 11 July, my third book, "With the Phone of the Wind", was published.
Eleven years have passed since the Great East Japan Earthquake. Last year marked 10 years, and although we thought we had reached a milestone, many people affected by the disaster are still suffering from a variety of problems. In particular, the grief of losing a loved one does not heal over time, but is perceived in very different ways depending on the individual circumstances of the disaster, and the scars of losing a loved family member are ever-present.
Through the practical activities of the Wind Telephone Service, I have been asking myself questions such as "Why do people who have lost loved ones build a wall around themselves?", "Why is it important to redirect our attention?" and "How can we overcome grief and suffering?". I also came to the conclusion that organizing and deepening my previous writings and thoughts would help people to better understand the "The Phone of the Wind".
Although there is some overlap with my previous two books, "The Phone of the Wind: 6 years after the Great East Japan Earthquake. What we can see through The Phone of the Wind" and "'The Phone of the Wind' and Grief Care: To stay considerate of heart, I have added some writing to what I have said and written on various occasions and quoted from conversations with various people. This book will give you a glimpse of the "The Phone of the Wind" activities over the past 11 years.
It is on sale at bookstores nationwide or Amazon.